Caterham Cars Academy Championship Race Package - Advice & FAQ
The Caterham Academy Race Championship package has been honed over many years to provide an ideal introduction to motorsport for complete novices. The Academy package includes a road-legal Caterham Seven racing car together with a full season of racing.
| | |
| --- | --- |
| | #YourCompetitiveAdvantage - DPR Motorsport has been helping build, setup and maintain Caterham race cars for years.  From our involvement in Caterham motorsport we've got a lot of valuable experience that, since we first started, has delivered a real competitive advantage to our customers. Below are answers to common questions that we have received from your fellow and prospective drivers in the Caterham Academy: |
Do I have to build my own Caterham Academy car? -  DPR Managed build/race preparation service
Caterham is a famous kit car and many people get great pleasure building one. But it may not be a leisurely activity as you need to get it IVA checked before your first race and this can feel like a stressful hassle, especially if you fail. Additionally you then need to spend time ensuring you've built it correctly and prepared your car  to the Academy race specification.
Getting your Academy car built by Caterham  is a cost effective solution up to the IVA. Subsequent to the IVA the car requires race preparation.  As an independent specialist we are well-placed to take control of the build from the onset where we will manage all interactions with Caterham and take delivery of the car post IVA for paint/vinyl wrap, race preparation and the initial car set-up.  Alternatively we can  become involved once you have taken delivery of your car from Caterham.
Navigating the IVA - We can provide a pre IVA compliance check including presentation if required
The IVA test is the final hurdle for getting your car road registered.  For those who have built the car  themselves the IVA can be a frustrating process  as there is a detailed non-intuitive check list that has to be complied with, no departure allowed.  Refer to the Caterham IVA Checklist (not exhaustive) for some guidance.
As one source of frustration, a number of  parts need to be fitted solely for the purpose of the IVA such as a collapsible steering wheel and specific IVA compliant mirrors.  We can provide a pre IVA check to include fitting any missing IVA required components and fixing any non-compliant aspects of the build.  Being based at Redhill we are able to present the car at Gillingham thereby ensuring components are bedded in such as the brakes and the exhaust fully warmed up on the journey to Gillingham so the emissions test is not compromised. 
What optional extras would you recommend?
 In the Caterham Academy you are limited in upgrades to ensure it is a level playing field. So most options are based on increased safety and styling:
Styling Options
Wrap or paint your car - Most drivers prefer to use a wrap rather than paint because it is easier to repair. We're lucky to have an in-house wrapper who specialises in Caterham cars, which can be difficult to wrap around the front suspension and bonnet louvres.  This is definitely an area where your buying decision should be based on looking at examples of previous work by the prospective wrapper. Our wrapping is all carried out under our direct supervision in our well lit/heated workshop.
Roll Cage Options  - You can make your car stand out with fluorescent colours on your roll cage so it is easier for friends and family to see your car in a gaggle of other Caterhams.  If you have the roll cage painted or wrapped then remember that the  all-important roll cage scrutineering sticker needs to be retained.
Safety related options
Fit a passenger side intrusion bar - This will reduce the sideways forces of any impact to the passenger side and so protect the integrity of the chassis.
Replace the rear copper brake lines to the braided version -  This makes changing the brake pads much easier and reduces the chance of breaking the copper line (which could be very dangerous).
| | |
| --- | --- |
| | Remove the steering key & lock - A helicopter starter switch is a great way to start your engine and replaces the ignition barrel that many drivers are concerned about striking their knee on.  You can then have an easy to reach ignition on/off switch positioned on the dash as shown in the photo, |
|   |   |
Fit a "Bag" fuel tank  - This type of tank is much more resistant to damage and should not allow any fuel to leak in the event of an impact.
Tillett, Two-part foam or "Resin Bead" seat -  Your Caterham Academy car comes with two Tillett seats.  Whilst perfectly adequate for road and track use there will be some taller drivers who can not fit under the roll cage.  A minimum of 5cm clearance is required between the top of your helmet and the roll cage.
Two-part foam seats -  Historically drivers used to create a lower profile seat using a bin liner and expanding foam.  This is not a method we would use as the material will contain hard points with little durability or ability to properly shape the seat,
Resin bead seats  - Is the quality of build important?  - A correctly constructed resin bead seat will sit you lower in the car and provide a shock absorbent layer of polystyrene beads to hold you firmly in position.  Not only will you be more comfortable and relaxed, in the event of an on-track incident the seat will absorb some of the forces. 
We pay particular attention to ensure the firm fit does not compromise your control of the car.  We try and get as much material as possible around the transmission tunnel and cockpit side to reduce the lateral forces on your ribs.  Once you're happy with the fit the seat can be finished with a fire retardant fabric and personalised with your own logos. Whilst there are many colours to choose from, we recommend a darker colour to reduce discoloration as you enter and exit the car.

We supervise all seat fits in our workshop to make sure that the seat does not restrict leg or arm movements and, of crucial importance, that the HANS seat belts are correctly positioned.  If required will relocate your seat belts to ensure they fit properly over your HANS device
We have seen cars with  bead seats built elsewhere where nothing has been done to relocate the belts that in consequence have a significant slope  down to the HANS belt bearing surface.  Downward sloping HANS belts are not just against the regulation, the HANS system simply will not operate correctly; a complete waste of expensive kit specifically designed to prevent serious injury or death.
We take care to ensure your seat belts are correctly installed so your HANS FHR works as designed - Read the full FIA requirements.
Motorsport UK regulations require the shoulder straps to be a maximum of 45° below horizontal. However, for use with an FHR it is recommended that they are no more than 20° below horizontal and they must not be angled upwards at all. The diagram shows the angle required for each element of the harness. This requirement was underlined in a scrutineering update issued by Motorsport UK.
Motorsport UK Harness Installation Guidance
This first image was sent to us and demonstrates an incorrect harness routing for use with a Frontal Head Restraint (FHR).  Correct harness routing and positioning is a vital part of an FHR, and it is important that when using one the harness shoulder straps are not routed at an angle above the horizontal.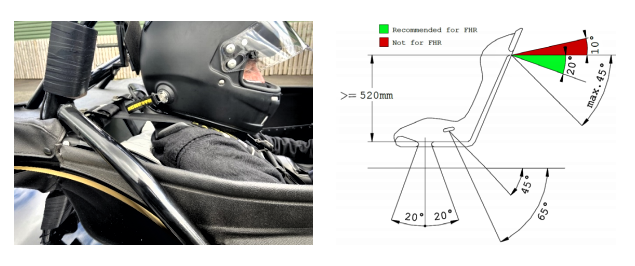 Underslung belts Required -  Fitting a resin bead seat will get you lower in the car but it is almost certain that your seat belts need to be underslung as shown below.
| | |
| --- | --- |
| | We are seeing a number of cars in our workshop with resin bead seats that simply do not comply as in the picture above where the seat belts are still fitted to the standard mounting position and  clearly sloping downwards over the driver's shoulders.  This is much more than mere compliance with regulations; unless correctly routed the FHR, when required, will not work as intended. |
Tillett Seat Support Insert
Often overlooked but the Official Caterham race regulations require a support to be fitted behind the seat as shown.  For safety reasons we would recommend whenever a Tillett seat is used in any Caterham a support insert is in place for all use on-track.

"It is mandatory that any space between the driver's seat back and the seat back bulkhead is filled with twin pack seat foam."
Fit Improved Mirrors
| | |
| --- | --- |
| | We fit Spa or Lifeline Convex mirrors to all our race cars.  Where the windscreen is present we recommend the use of half side screens as this ensures good visibility but still some shielding from the elements. On the driver's side fitting the mirror to the windscreen  is a straightforward solution.  On the passenger side, fitting to the roll cage ensures an improved view over using the windscreen stanchion and we can provide a roll cage clamp to mount the mirror in position - Purchase Mirrors and Mounts   |
Prevent engine oil leaks 
| | |
| --- | --- |
| | For on-track use the catch tank lid should have holes drilled and the small seal removed to release any engine generated pressure.  Some suitable oil resistant sponge should be placed under the cap to minimise oil being blown out.  The catch tank hoses should be secured with cable ties. By allowing free escape of any crankcase pressure build up this will minimise the risk of oil leakage past the dip stick or engine seals.  For added security the dip stick can be cable tied in position, ideally with reusable cable ties. |
Competitive Advantage
With this strictly regulated one-make series all cars are equal and this makes all-important to be in the best possible position in terms of driving skill and knowledge.
Purchase another two sets of wheels - Whilst the Caterham Academy package includes one set of wheels most Academy drivers purchase two sets of wheels, one set for dry conditions and another for the wet. Really competitive drivers choose three sets, a dry, intermediate and wet. These wheels are a great investment as you move to the next championship as Roadsport, 270, 310 and Caterham Sevens UK all use the same wheels.
| | |
| --- | --- |
| | When  racing always ensure your tyres are fitted with short valves  - With the standard long tyre valves any slight wheel to wheel rubbing can destroy the valve bringing your race to an immediate end.  Not an issue until your racing proper starts.  At the actual race weekends you can always ask the friendly Avon support guys to change any long valves to the short variety.  To keep them friendly choose a time when they are not flat out fitting tyres. |
Video & Data are key to going faster - Knowledge is power!
| | |
| --- | --- |
| | Start with the basics - Fit a dash  timer - Simple timers are really inexpensive but enable you to understand your time on track.  Use a dash timer in testing to practice qualification & race duration stints.  During the actual race this allows vital anticipation of the final lap. |
For deeper insight fit a Racelogic VBOX - A VBOX will provide you with quality information and video footage to help you understand car control and performance. This is particularly important when working with a driver coach. We strongly recommend the high definition version (HD2) because the superior picture quality really helps you understand track position, and many drivers appreciate the better quality if uploading to YouTube. Where a VBOX is purchased through DPR, we provide a free install together with a bespoke scene and enough training for you to understand the basics.
| | |
| --- | --- |
| | Use a footcam to understand your feet movements - Forward and rear facing cameras are required for racing to record evidence for the inevitable on-track incident, either as participant or observer.  For testing/track days consider replacing the rear facing camera with a footcam.  The HD2 video alongside shows a Darren Burke hot lap @ Snetterton using such a footcam. |
Flat floor setup - Post the IVA we recommend a basic quick setup for initial track use.  Once your car has been driven for 1,000 miles it will require a first service and this is the ideal time for a full race setup as the car will have settled.  Our unique approach, honed through years of setting up Caterham race cars, will ensure your car has an optimal setup for serious race use.
Practical Considerations
Drive or trailer to events?   A few Caterham Academy drivers choose to drive to an event, however by the end of the year almost everyone has purchased a trailer. They either get concerned about  driving long-distances in a small car that few people notice (particularly at night) with ear plugs in to cope with the incessant noise; or they worry about damaging their car at an event and limping home. A trailer is also useful for storing your fuel and spare tyres. So why suffer and procrastinate when you're going to need one?  There are lots of trailers available for different sized driveways/garages. Buying new may be a wise choice as they have a good residual value. Failing that you'll find sites such as RaceCarsDirect and eBay regularly advertise them (especially around October/November when the Caterham race season ends).
If budget will allow, get an enclosed trailer with a rear drop-down door (not a clam shell type). These provide a space for you to get changed, help shelter you and your car from the rain (it will rain) and provide security for all your stuff. Sadly we've seen wheels, petrol and tools stolen from open-trailers, so if you have everything exposed ensure it is secure.
And whilst on the point of security for trailers consider the following safeguards:
A hitch lock when your car is stationary. Whilst you should not drive with it on, if you pull into a service station it is recommended.

A tow-bar lock when your trailer is not attached to your car.

A wheel-lock, of course when not attached to your car.

Finally products such as DataTag and SelectDNA will help officials find stolen items and simple trackers like Automile can help locate them.
DPR Storage & Transport Package including Sim Usage
If you don't want to drive to an event or purchase a trailer, DPR provide a storage and transportation package we'll happily discuss. This includes a post race service check and, more significantly, access to DPR's unique Caterham simulator.
Will I need a shelter?  Ideally when your car is in the paddock you'll need a shelter. The most practical size seems to be 3m x 4.5m, any smaller and the rain comes in from the side, and larger and it may not fit. Purchase one with a robust frame, ideally a hexagonal shape, because otherwise they may break in high winds. You should also purchase weights for each leg, the solid iron ones are far better than sand or water (you often can't tie down with spare wheels because you need them).
What hotels will I need? It might be practical to travel to local tracks on the same day, but it may not be worth the risk for tracks more than a couple of hours away as tired drivers have more accidents. You'll become quite proficient at booking hotels for track days, using Google Earth satellite view to find those with the biggest car park for your trailer. At race weekends you'll probably be able to leave your trailer at the track, giving you more choice of hotels. Most importantly, when the season is announced, book your hotels immediately. The closest ones go very quickly, especially when you share an event with other Caterham drivers such as in Roadsport, 270 etc.
 What is the difference between track and test days and which ones shall I book? Track days allow anyone to drive almost any car on a race circuit. Test days are available exclusively to race drivers who have an ARDS license (something you'll get with your Caterham Academy package) to drive their car and because there are fewer cars on track they are more expensive. The amount of track and test days you purchase depends on how good your car control is and how competitive you are. For most Caterham Academy drivers track days are a great place to learn technique.  Prior to your race weekends there will be a test day on the Friday and often one on the Thursday. When booking track days you'll find some useful intermediaries who promote lots of events from different providers. Where possible you may want to find out who the organiser is and book directly. Some typical track days organisers are MSV, Javelin Trackdays, and Circuit Days. You can also book directly with some race tracks such as Knockhill, Anglesey, Croft, Mallory Park and Castle Combe.
Booking test days - He who hesitates is lost - It is important to book them immediately because you're in competition with LOTS of other Caterham drivers. If you change your mind they are relatively easy to sell on later. MSV operate a very fair system for providing credits.  When booking, don't worry about a garage or lap timing, and if prompted you are driving a 'closed' wheel car. If booking test days before a Caterham race weekend, if possible book both Thursday and Friday because arriving early allows you to setup easier in the paddock and you never know the British weather!
Will I need a driver coach? Whilst you don't 'need' one, almost everyone in the Caterham Academy will use a race coach (but most will deny it because its such an advantage).  DPR are in a privileged position to have a driver coach that specialises in Caterham cars and is a professional racing driver. His highly acclaimed approach is used by the CEO of Caterham Cars, and many Caterham winners. As a novice Caterham driver you'll be surprised just how different it is to a typical road car. With no ABS, traction control, power steering and a dynamic setup the handling is quite exhilarating. Therefore, a driver coach will show you just how capable the car is and show you an appropriate technique to help you go faster. To get the most value from a driver coach, he/she will require a VBOX from Racelogic installed.
What clothing will I need to race? Generally when purchasing motorsport clothing, the more you pay the safer it will be and the more comfortable.
Helmets -  Most of your budget should be spent on a well fitted helmet and it is important you try it on before purchasing. Later you can have it painted in a snazzy design. Whilst it won't make you quicker, it will help you stand out in photos and on the podium. There are a few providers such as JLF, Rennart and Nippy Designs but they are busiest during the winter months when there is no racing.

Hans Device  - You'll need a HANS device to protect your neck. A new version by Simpson, affectionately called the 'sports bra' is also gaining attention because of its suggested ability to reduce injury from lateral loads.

Race Suit - Caterham Motorsport have an arrangement with Demon Tweeks for a race suit branded with the Caterham logo. This is good value and suitable for most people. However, you could go tailored if you wish with some of the best being produced with Stand 21.

Fire retardant underwear - Whilst optional in the rule book, although required under FIA rules for races in Europe, fire safety is not an area to compromise.  Quality in this area may save you from serious harm as demonstrated by Grosjean's escape in Bahrain. For your comfort, and everyone else, buy at least two sets for practical reasons.

Race Boots - When buying race boots ensure they are not too big because the pedal box in a Caterham race car is not very large. Ideally the sole should be thin so you have adequate feel.

Race gloves - Should fit and grip well.

Wrist restraints - These are required for Caterham Motorsport to reduce the chance of your hands leaving extending beyond the roll-cage in an incident. Although only mandatory for racing we recommend you use these at all times on track so that you get used to the curtailment in your hand movement.

Washing clothing  - When washing your clothing it is recommended to use a specialist detergent called Molecule. Whilst expensive, other detergents may reduce the fire-retardant properties of the fabric. (Normally you won't wash your race gloves, boots or wrist restraints). Importantly, whenever you are on track, wear your race clothing. Incidents can happen without warning and it could protect your life.
Car maintenance & tools required
How do I maintain my Caterham car? - Depending how much you drive your new Academy car will determine how regularly you need to replace brake pads, oil and filters. You will also need to perform a regular 'spanner' check to ensure no parts are cracking, such as the De-dion, radius arms, wishbones etc.
What tools will I require? Because you will be supported at race events by Caterham Motorsport you won't require that many. But, whilst fellow Caterham Academy drivers are a friendly bunch and normally happy to share, it is advisable to have the following as a bare minimum:
A trolley jack, ideally with a low profile to get under the Caterham's nose cone, able to lift at least 1.5 tonnes
 3 x axles stands.  We can show you how to place two at the rear and one at the front for a stable platform. Please don't rely on your trolley jack alone!
 Tyre pressure monitor, ideally with a digital readout and a flexible hose for easy attachment. Longacre is a great brand.
 Tyre pump. Whilst bicycle style and foot pumps are available, Ryobi offer a great cordless pump in their Ryobi One+ version.
 Impact driver for releasing and fitting wheel nuts. Whilst not essential it makes life much easier. Again Ryobi offer a good cordless version that has different power settings (setting 3 for removing wheel nuts, setting 1 for fitting them back on). Tip: it is always advisable to loosely fit the wheel nuts before using an impact driver to avoid cross-threading.
 Torque wrench with a ½ inch driver capable of at least 84nm of force so that you can fit the wheels correctly. (Top tip: at the end of every day release the pressure on your torque wrench so it doesn't lose its accuracy).
 19mm impact socket with a ½ inch driver, attached to your torque wrench
 Small socket and screwdriver set. Draper offer a good range of quality tools.
Should I buy race insurance? If someone hits you whilst on track, even though not your fault it is your problem to fix. Whilst we can't give advice you might want to answer this yourself: "If you had a £10,000 repair bill could you afford it?" If not insurance might be a product to look into. The main insurers for the Caterham Academy include: Grove & Dean; REIS; and Ryan. Policies and prices vary so take the time to make an informed choice.   Make sure you understand the coverage.  We had one customer who only when the claim arose realised that he had just been sold a parts only insurance.
Learning how to race
How can I avoid having accidents in my car? - Unfortunately Caterham Academy drivers will be involved in on-track incidents and this is normally due to one or all of  three reasons:
Drivers go faster than their knowledge/ability permits;
When they are out of control they forget to hit the brakes, particularly dangerous when about to roll back on to the track; and
Behave unpredictably on the race track.
Driver Coaching
For new drivers it is important to learn how to drive within the limits of both car and driver.  Relying on picking up all that is necessary in your first race is not a good idea.  Getting time in the car on track days is how most drivers start .  Getting connected with one of the Caterham specialist coaches will speed up your learning.  Bear in mind that whilst there are a number of good driver coaches to be found not all are specialists with Caterham race cars.
DPR Driver Development = #YourCompetitiveAdvantage
Together with our team driver coach, Darren Burke, we have created a driver development programme that can take a complete novice to a competent racer.  Through our  structured training programme we ensure  race learning proceeds as quickly as time and ability permits.  This programme combines time in our uniquely accurate Caterham simulator with actual on-track.  This combination accelerates learning so you achieve more in less time and for reduced  overall spend as expensive time on-track is reduced. Regardless as to whether learning is  in our simulator or on-track, you will be taught in exactly the same way using the same Racelogic VBOX telemetry as can be used in your own car. - Find out more @ DPR Driver Development
Virtual Racing
Following the first Lockdown in 2020 there has been an upsurge in Virtual Racing.  Chris Hutchinson launched specific Caterham virtual championships promoted through his web site CaterhamRacer.Com and FPZero provide professional but good value simulator kit for home use.
With virtual racing championships mirroring the actual on-track championship, we have incorporated the virtual races in our own driver training.