Caterham Academy: DPR Academy Setup
The highly competitive nature of Caterham one-make racing requires both the driver and car to be 100%. We set up cars to be capable of racing at the front of the grid.  DPR set ups have an unrivalled history of championship wins including drivers within the Caterham Academy.
Race-winning baselines
As a first step the car geometry will be assessed using our Hunter laser alignment system to measure toe and camber but also include key chassis elements such as caster, wheel set backs and rear axle angles.  In addition to the standard set-up measurements of front toe and camber, we also measure and adjust caster, rear toe and rear camber.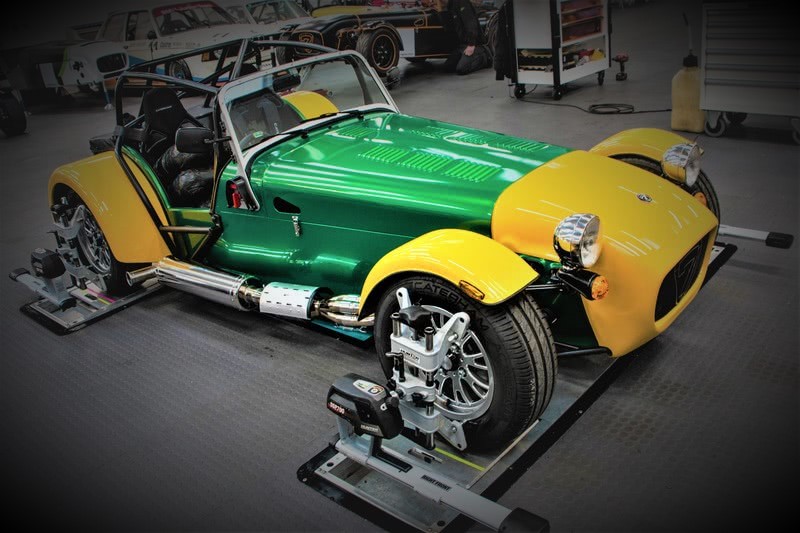 Our proposed changes will then be discussed with you to get your involvement in the adjustment process. Once the adjustments are finalised we explain the approach taken for ride height, corner weighting and the optimum fuel level for race use.   As part of our setup process, all critical nuts are checked to ensure they have been torqued correctly after which they are marked to allow a visual check for any movement.
DPR Motorsport's purpose-built Flat Floor

Accuracy of a flat floor is all-important; mere positioning of corner weight scales within the floor is not enough. Our dedicated flat floor has the corner weight scales located within a levelling platform specific to the Caterham wheel base.  This enables the scale tops to be 100% level across all dimensions.  As a result our equipment ensures measurements are accurate to 0.5 kg., 0.1 degree and 0.1 mm.

Note: Critical settings can change with on-track use. We recommend that front ride height is checked prior to race use. Use of the circuit scales should always be made to check weight before qualifying or racing.

DPR fixed price Academy race focused set-up and race-readiness service checks

We offer the following set up options to the Caterham Academy. Our Academy race-readiness check can be performed at the same time:

'Ball-park' setup - For cars under 1,000 track miles. A quick setup to get the car ready for track rather than road use.

Full Academy race-focused setup - For Academy cars over 1,000 track miles. A comprehensive race setup which includes calculating any required ballast together with the optimum fuel load to start the race.

Setup check only - This is available once a full setup has been carried out and is charged as a set price. Any adjustments will be charged just on a time worked basis.

 

Extreme accuracy from the DPR race engineered flat floor