DPR Motorsport rates Race Car Live! a great success
The DPR motorsport Race Car Live! garage featured the new Brightwater Technologies sponsored Caterham R300 driven by Jon Walker. This car is the first customer-supplied R300 that won the first three debut races for the R300 during the invitation races at Donington earlier this year. This includes the first outright win for the new R300 during the Eurocup pit stop invitation race.
Also present at Race Car Live! was the recently built DPR Motorsport built Caterham Roadsport A that novice driver Robert Springate (age 20) piloted to sixth overall in his debut race at the Brands Hatch Formula Ford Festival round and a road-going R500 driven by Caterham Motorsport Manager Simon Lambert.
DPR Motorsport team principal David Rowe said: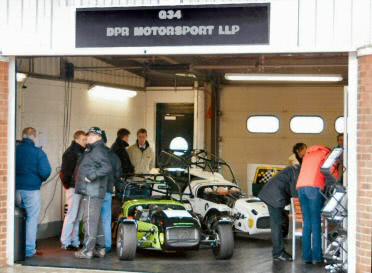 We significantly under-estimated the interest in Caterham with all of our passenger rides being booked by 10 am on the first day. From talking with a number of karting competitors this confimed Caterham racing as a perfect next-step for progression into serious motor sport. Caterham Academy provides a well supported entry point for complete beginners but a number of the more experienced karting competitors could also make the transition directly into Roadsport A (120 bhp) or the new R300 series (175 bhp).

From looking at what else was available in the Race Car Live! paddock there is no doubt that Caterham racing is one of the least costly options. The overall race experience in times of race time duration, circuits and manufacturer support is at the top-end of what is available.