Britsport 2010: DPR Motorsport's Caterham Superlight R300's get 1-2-3 at Brands Hatch
Five Caterham Superlight R300's raced at the opening Britsport double header round at Brands Hatch but it was the DPR Motorsport cars that achieved a 1-2-3 finish in both races. 2009 championship winner Jon Walker was the first R300 across the line in both races and he was closely followed by Caterham newcomers Mark Shaw and Johnathan Packer.
In race one the slick-shod Caterham Superlight of Nick Starkey deprived Walker of the class win. In race two Starkey DNF'd following a collision with Walker's rear panel giving Walker the overall class win. DPR Motorsport also set-up the R400 driven by Randeria and Fillingham which resulted in a significant boost to on-track performance. In the dry conditions for race two the extremely rapid car of Randeria and Fillingham squeezed out an advantage at the head of the field until an encounter with Ron Johnson *.
DPR team principal David Rowe said:
New to Caterham R300 driver Mark Shaw overtaking James Maclachlan in his blue Supersport - both driving DPR built & supported Caterham race cars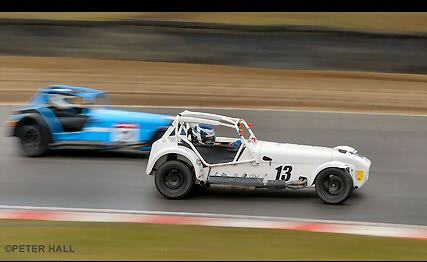 The Britsport event at Brands provided us with a great opportunity to get in shape prior to the start of the Caterham official championship in April. For 2010 we have two new drivers in addition to Jon Walker who won last year's championship and they are both on the pace as the results at Brands demonstrate. We were also involved with the set-up for the Randeria/Fillingham driven R400 that was running on slick tyres.

With the greater engineering freedom allowed under Britsport we were able to implement a set-up that would not be possible under the Caterham official championship. With our set-up the car's on-track performance demonstrated the potential to gain an outright win.

Last year the Caterham Superlight R300 grid started at 12 and finished with 15 cars but for 2010 the grid is 30 plus with no more places available. The 2009 championship was not decided until the last round at Snetterton and the race for the top can only become more intense for the 2010 championship. At the recent Caterham day at Rockingham both Andy McMillan and Trevor Fowell were noticeably quick pedallers.

2010 looks set to be an exciting year for Caterham motorsport with full grids across all levels of the motorsport ladder but the Superlight R300 championship promises real excitement. Getting 1-2-3 at the Britsport event at Brands was a good start for DPR but the real challenge lies with the opening championship race at Silverstone.
* As reported by David Hornsey, Britsport